News Updates
10/19/13
I've now got a site set up for the 2014 remake:
www.poltergeist2014.poltergeistIII.com
Check it out for lots of photos from the street they filmed on recently, including the house!
9-6-13
Deleted Scene featuring Beatrice Straight and a never before seen character!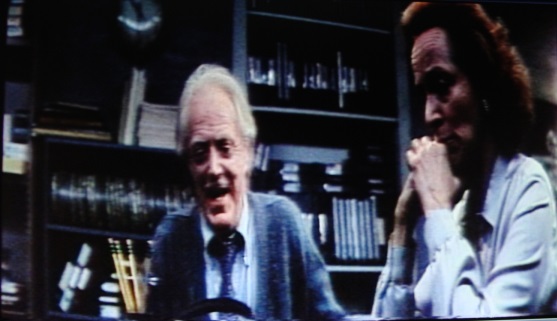 from the St. Mark Collection
Above is a deleted scene featuring Dr. Lesh (Beatrice Straight) and her mentor at the University, Dr. Anthony Farrow. Farrow was portrayed by the late veteran actor Edward Ashley, star of many classic Hollywood films including 1940's "Pride and Prejudice" (http://www.imdb.com/name/nm0039049/). This scene featured the two characters discussing the video tapes Lesh's team filmed at the Freeling house, and Farrow's suggestion that Lesh bring in "her big guns" to help (Tangina). It also featured a bit of foreshadowing as Ashley notices something interesting that materialized with the pile of jewelry that fell from the "bilocation" point in the ceiling. While sadly this scene was cut from the film, it was featured in the novelization by James Kahn.
As to whether footage from this scene still exists, the answer is.....YES.
Below is a script excerpt from the sequence:
105 EXT. UNIVERSITY OF CALIFORNIA AT IRVINE CAMPUS - ESTABLISHING - DAY
Students mill about between classes. It's a beautiful day in Irvine.
106 INT. PSYCHIC RESEARCH CENTER - LECTURE HALL - DAY
DR. LESH AND A SENIOR ADVISOR, ANTHONY FARROW

They are sitting in an empty lecture hall. Monitors are everywhere. Several people are filing out. Lesh is exhausted. Apparently she's been through quite an ordeal. Anthony Farrow is twenty years older than Dr. Lesh, which puts him into his early eighties.
He puts a comforting arm around her and sits on the desk, smiling like the wizened sage he is.
FARROW
In a word?
He hands her back her video tapes.
LESH
In a word.
FARROW
Too graphic!
LESH
It was the episode as it occurred.
FARROW
Perhaps.
LESH
Oh, Tony...you too?
FARROW
I so wish to accept what I saw. I'm only steps away from the old wooden bridge myself. To believe that something exists on the other side would be like a warm light in the window.
LESH
Perhaps if tendrils of ectoplasm were all that showed up?
FARROW
Better.
LESH
A smoky shape lasting merely an instant.
FARROW
Even better.
LESH
Nothing on tape at all... only sounds, rappings, a sigh.
FARROW
You'd still be answering questions. They'd all want to go back to the house tonight. You gave then too much, Martha. Too much too soon. Nothing was left to the imagination. This isn't a science yet. It's still a sideshow and your troubadours were not in their make-up.
LESH
And these? What do you make of these?
She gestures to the dozens of jewelry pieces on the desk. Farrow picks up a beautiful brooch. He holds it up to the light.
FARROW
It's the real McCoy, that's one thing for certain.
Farrow pins the brooch on Lesh's sweater and takes an antique ring, placing it on her finger.
FARROW
Dear Martha. May we cross that bridge together someday? May all we believe be true. May we picnic in the clouds.
Lesh starts to laugh and punches Farrow on his leg.
LESH
You old con artist. If only you were fifty years younger.
FARROW
Let me give you some advice. Secret a few of those gems. Come out of this with something in your pocket. The National Enquirer pays more for inventing what we must bust our rumps investigating and for what?
LESH
Okay, pops! I'm making you the accessory in this crime.
She picks out a set of earrings and stuffs then into her change purse. Farrow laughs as Dr. Lesh starts to fold up the napkin containing the stones and jewelry. Suddenly Farrow stops her, reaching for something in the pile.
FARROW
This is interesting.
He picks up a thin, wiry clip that looks like it could he a dog muzzle for a miniature poodle.
FARROW
Did this teleport with everything else?
LESH
Yes, I picked it up myself. Why?
He turns it over in his hand.
FARROW
It's a staple, a clamp for the jaw.
LESH
Not something you'd wear to the masquerade ball.
FARROW
No, but you would wear it to your own funeral. It's a mortician's trick. It prevents the mouth from suddenly dropping open when the body is in repose. It discourages a great deal of embarrassment and...fainting.
LESH
(with a shiver she looks at her watch)
Oh darn, I promised I'd be back before dark.
FARROW
Martha, my dear. Why don't you let Tangina have a go?
LESH
(sourly)
I was afraid you'd suggest that. Tangina's so...melodramatic.
FARROW
Yes. But she's a house-cleaner and right now with what you tell me about that little girl, I think it's high time you brought out your big guns.
More deleted scenes can be read about here:
http://www.poltergeist.poltergeistiii.com/deleted.html