News Archive 3
Don't miss this "Poltergeist" related podcast on Sunday, June 30th, hosted by my friend Mat Biller!
The Kreep Show
Be sure to tune in this Sunday night at 10 p.m. PST for a special all Poltergeist episode of the Kreep Show! We will be discussing the original films, weighing in on the reboot and also reviewing the death rattle of the original trilogy, Poltergeist III! Only on www.blogtalkradio.com/the-Kreep-show
Call in and talk with the hosts! 646 716 4135
3-7-13
Remake director has been selected!
Read more at Deadline.com:
10-19-12
Here's a review for the film from "The Absent Commentator." I hadn't really thought about this until he mentioned it: "Rule #3: Always whisper the exposition."
8-3-12
Check out these videos of the panel discussion with actors Oliver Robins and Martin Casella at the recent "Days of the Dead" convention in Indianapolis. There are five clips in all which last for a total of about 45 minutes:
http://www.youtube.com/user/DOTDBILL
They both share lots of great behind the scenes stories!
(Special thanks for "DOTDBILL" on YouTube for posting these)

check out this article:

4-28-12
1-15-12
I've always been a big fan of James Kahn's novelization of the film. I read it when I was about 8 or 9 years old. But it was only yesterday that I found out that another writer had been hired before Mr. Kahn, and he wrote a whole different version of the book! It almost went to press. Read why it wasn't used here:
www.poltergeist.poltergeistIII.com/joe.html
12-12-11
Today on the ABC show "The Chew," host Clinton Kelly was surprised on air with the Christmas gift of....JoBeth Williams!
Watch the episode here:
http://abc.go.com/watch/the-chew/SH55125610/VD55157479/the-chew-1212
9-24-11
Check out this interview with the late Jerry Goldsmith:
http://www.youtube.com/watch?v=Wnp0cClT-Bo
3-5-11
2-23-11
"Poltergeist" editor Michael Kahn confirms Spielberg's involvement with the directing of the film.
Fast forward to 15:35 of this recent interview.....

http://www.youtube.com/watch?v=xjdOG-w0Zz4

2-17-11
MGM announces that a new "Poltergeist" is still on track! (But is it a remake or a sequel??)
http://www.variety.com/article/VR1118032494
Here's hoping that the studio has reconsidered the remake idea since all their financial woes, and has decided to truly go with a direct sequel to the original films. I think it would be really cool to see a "Carol Anne grown up" continuation......what do you think?
2-16-11
Here's a recent Blog Talk Radio interview with Oliver Robins. He discusses his latest film, "29,000 Wishes and 1 Regret," as well as working on "Poltergeist":
http://www.blogtalkradio.com/panacea-quest/2011/01/31/oliver-robins-from-child-star-of-poltergiest-to-po
The film's web site is:
Also, here's a cool TCM International trailer for a recent airing of "Poltergeist:"
http://www.youtube.com/watch?v=c_vVoMN6Ajk
12-13-10
New 2 disc soundtrack CD now available!
From:
http://www.filmscoremonthly.com/cds/detail.cfm/cdID/452/
Goldsmith's score flows effortlessly between hard-core, dissonant modernism and some of the most lyrical, humanistic music he ever wrote. It is both a marvel of musical construction and a visceral listening experience. Composed over an uncharacteristically long period of fifteen weeks, the music for Poltergeist evokes both child-like simplicity and sheer terror. The complete presentation of the score on Disc 1 includes several passages that were not used in the film.
Mike Matessino restored Goldsmith's Poltergeist score from the three-track stereo film mixes for this release; Bruce Botnick, the film's original recording supervisor, did the digital mastering. The deluxe 28-page booklet features an informative and perceptive essay on the film and score—incorporating remarks by the composer—and a complete cue-by-cue analysis by Matessino.
As a bonus, disc 2 also includes the re-recorded suite of cues (including one previously unreleased) from Goldsmith's The Prize (1963). Originally recorded for MGM LP, four of these tracks were included on FSM's CD of the complete score (
FSMCD Vol. 5, No. 16
), but all five have now been remixed for superior sound quality from newly-discovered ½" three-track masters.
The CD booklet also includes a personal reminiscence from Bruce Botnick about the 1982 Poltergeist recording sessions, as well as the original LP notes by Steven Spielberg. In the legendary producer's words, "Jerry's music conjures many classical impressions of ferocious drive and at the same time, cathedral beauty. So…let the imagination wander. Pleasant dreams."
10-30-10
WB has reissued the Blu Ray of the film. Unfortunately (as usual) there are no new extras due to the "who really directed it" controversy. As reviewer Bill Chalmers says:
http://filmfreakcentral.net/dvdreviews/poltergeistde.htm
Warner has reissued Poltergeist on Blu-ray, dropping the digibook packaging but keeping everything else the same. I'm disappointed by not only the continued suppression of the featurette that graced the LaserDisc box set but also the apparent unwillingness of any content producers to step up with fresh making-of material. This movie's production is a rich, mostly-untapped mine and the first real excavator is going to have a hell of a story on his or her hands, one that will probably take the form of a contemporary Rashomon--although at this point, I'd settle for an interview with Richard Edlund about the special effects. They're impressive for their time and, moreover, they're impressively well-preserved in this 2.40:1, 1080p transfer, betraying neither the usual truckload of optical debris nor a notable amount of noise-reduction.
10-29-10
Here's some new interviews with JoBeth promoting this weekend's San Francisco screening of the film:

http://www.ebar.com/arts/art_article.php?sec=film&article=815

http://www.sfexaminer.com/lifestyle/JoBeth-Williams-exorcises-all-of-her-Poltergeist-memories-106157558.html
10-16-10
Check out this very cool poster for the film recently designed by artist Ken Taylor! You can buy a copy of it by going to this link:
http://www.collider.com/2010/10/15/mondo-movie-posters-poltergeist-let-me-in-metropolis-rubber-aguirre-the-wrath-of-god/
10-15-10
EXCLUSIVE!
Here, quite possibly for the first time, is the original treatment for the film ("Night Time"), written by Steven Spielberg:
www.poltergeist.poltergeistIII.com/nighttime.html
Enjoy!
10-10-10
Oliver Robins Audio Interview
This is over a year old, but I just stumbled across it this morning. It's an hour long interview with actor Oliver Robins. He talks primarily about his current work as a writer/director:
http://www.blogtalkradio.com/rex-sikes/2009/08/19/rex-sikes-movie-beat-chats-with-director-oliver-robbins
Also, you can find Oliver's official web site here:
http://sites.google.com/site/officialsiteofoliverrobins/

9-15-10

Check out this podcast:
http://soimarriedamoviegeek.podbean.com/2010/09/15/so-i-married-a-movie-geek-episode-20-poltergeist/

Also, Moviehole.net mentioned my article on the writing of the film today! Check it out here:

http://www.moviehole.net/201026417-so-who-really-wrote-1982s-poltergeist



9-10-10

This would be fun to attend.....!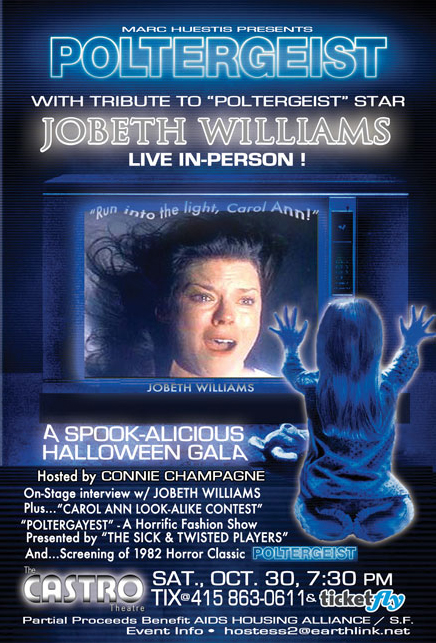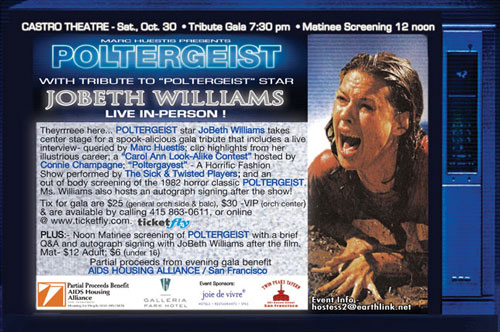 From:

http://www.ebar.com/arts/art_article.php?sec=outthere&article=284
Labor Day is over, and we've put our white back into the closet. Time to go to the dark side? No, according to Castro Theatre impresario Marc Huestis, it's time to "go into the light!" He's conjuring the Polter-gayest Poltergeist celebration ever, a screening of the classic 1982 horror film with a gala tribute to its star, JoBeth Williams. Williams will be in on the good gay fun, including a sit-down (or maybe a stand-up) interview with Hostess Huestis; a clip reel celebrating Williams' work in such classics as The Big Chill, Kramer vs. Kramer and Dexter; a Carol Ann Look-Alike Contest femceed by Connie Champagne; and a spook-alicious Fashion Show put on by the Sick & Twisted Players, celebrating their 20th Anniversary on SF stages.
Huestis claims there are spectral forces guiding this show. "I'm friends with JoBeth, and a few years back we had lunch at a local eatery to discuss this gig. When I mentioned her co-star Zelda Rubinstein, all of a sudden the ceiling fell and water came gushing down on the folks at the table next to us, forcing them to flee. It was a scene straight out of Poltergeist! We both cracked up laughing, just kept eating our meat loaf and chicken pot-pie, and that's when I knew this show must go on!"
The show will go on the night before Halloween, Sat., Oct. 30, at ye olde Castro Theatre. Sounds like a ghoulish night out. OT thinks it's about time to take back the Castro for our favorite gay hell-aday, and it's for a good cause, as partial proceeds benefit AIDS Housing Alliance/SF. Call (415) 863-0611, ask for Carol Ann, and get a $5 discount.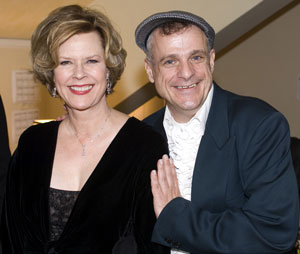 Above, JoBeth and Marc

8-17-10
Check out these two really beautiful piano renditions of Jerry Goldsmith's "Carol Anne's Theme" that I found on YouTube:
http://tiny.cc/l2kba